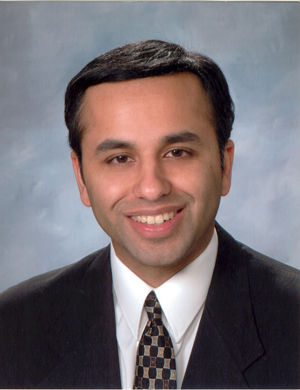 Dr. Tahir A. Chauhdry, an obstetrics and gynecology (OB/GYN) specialist with offices in Bradford and in Olean, N.Y., is no stranger to conflict or emergency circumstances.
Chauhdry has put his physician's skills to the test in two disaster zones, Kashmir and Haiti, as well as lent aid to Syrian Refugee camps over the past year.
Now, he has added resuscitating an unconscious individual at 36,000 feet over the Atlantic Ocean to the list of his experiences.
The incident began as a simple family vacation, according to Chauhdry.
"My family was flying to Jeddah, Saudi Arabia for a family vacation to two Holy cities, Mecca and Medina," Chauhdry explained. "This is a mini pilgrimage; we generally go every year to recharge our spiritual batteries."
Not to mention, getting out of the cold and snow, he added.
"While sleeping on Flight 020, Zayba, my 16-year-old daughter, shakes me and tells me they need a doctor up front right away," he continued.
Dazed and confused, Chauhdry went to assess the patient — an unconscious man alone aboard the flight with no family.
"Unfortunately, Saudi Arabian Airlines wouldn't let anyone touch the patient unless they could prove they were a physician," he stated. "By chance, I had my New York State Physician Emergency/Disaster Card in my wallet."
Initially, Chauhdry said he went to assess the man by the flight attendant's request.
"Originally, there were two other doctors with him," he said. "Off the hook, I went back to my seat. Two minutes later, a bunch of flight personnel grabbed me. They wanted to see proof that I was a physician — the other doctors had no proof."
Chauhdry noted that he carries his physician's card "mostly to avoid speeding tickets."
"Normally, I try to avoid getting a ticket; this time, I got to save a man's life," he commented.
"I was the only one that could resuscitate the patient, based on the Saudi's requirement, so that's what I did," Chauhdry explained. "The other two doctors, a radiologist and pediatrician, were not qualified according to the Saudis. I'm grateful that I was."